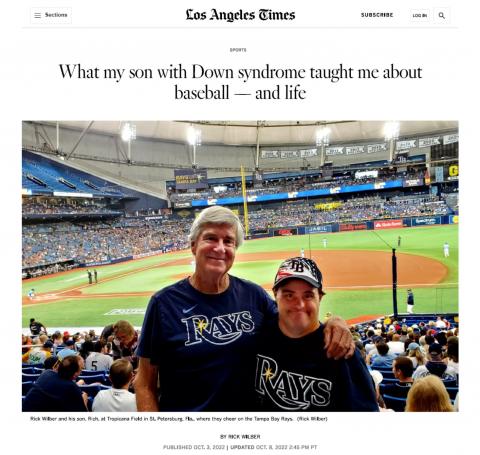 ST. PETERSBURG, FLA. — We're at Tropicana Field, my son and I, watching as Anthony Santander strikes out swinging to end the top of the fourth inning. He's the 12th Oriole in a row to make an out. Drew Rasmussen is, at the moment, throwing a perfect game for the Tampa Bay Rays. It's early, but another inning or two like this and things will be very interesting, indeed.
My son, Rich, has been my companion at a hundred or more of these Sunday matinee baseball games in the Trop over the years. He's 53 years old. He's a baseball fan. He has Down syndrome.
We've seen all manner of great catches in the outfield, splendid glove work on the infield, superb pitching and timely hitting in those years. Our most exciting moment might be the time we watched Randy Winn hit an inside-the-park grand slam in 1999. Rich and I cheered like crazy for that one, high-fives and hugs. Rich is definitely a hugger.