Anthology of Florida Science Fiction
Rick Wilber and Richard Mathews, eds.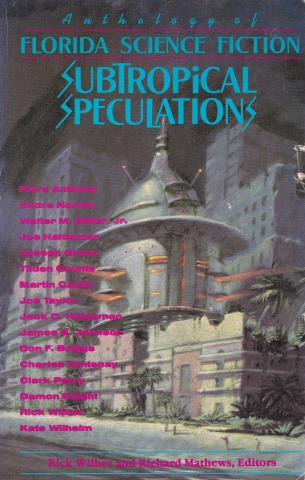 Florida has been home to a large number of science fiction's brightest stars over the years, and their work has often included the state as an integral part of the setting. Editors Wilber and Mathews have selected 16 stories, including new stories as well as classics, ranging from comic glimpses of alien lifestyles to dystopian images of our future, and from science fiction and fantasy to the literary mainstream.
Richard Mathews and Rick Wilber, Introduction
Piers Anthony, "Beak by Beak"
Andre Norton,"Desirable Lakeside Residence"
Walter M. Miller, "A Triflin' Man"
Joe Haldeman, "All the Universe in a Mason Jar"
Joseph Green, "Raccoon Reaction"
Tilden Counts, "The Weather After This"
Martin Caidin, "New Wings," from Prison Ship
Joe Taylor, "Welcome to the Pleistocene and Land"
Jack C. Haldeman, "Quartet for Strings and an Occasional Clarinet"
James B. Johnson, "Flankspeed"
Don F. Briggs, "Miss Molly and the Alien"
Charles L. Fontenay, "Savior"
Clark Perry, "Killing Time"
Damon Knight, "Down There"
Rick Wilber, "Finals"
Kate Wilhelm, "The Scream"